The Circumstances of His Death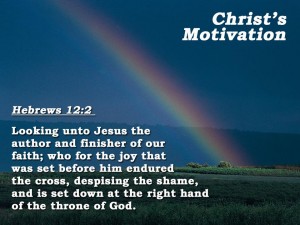 Throughout his ministry Jesus taught his disciples that he must die (Matthew 20:17-19), so fulfilling the role of the Servant of the Lord, who suffers humiliation and death, spoken of by the prophet Isaiah (52:13 – 53:12).  The Jews expected that the Messiah would lead the nation to defeat Rome and restore the old Kingdom of Israel (John 6:15).  Instead, his  teaching focused on spiritual reform.  Because of his great following, the rulers saw him as a threat to their own leadership in Israel and thus it became expedient to remove him.  They could not accept that he was the Son of God.  One of the last parables he publicly presented is in Matthew 21:33-41, and clearly portrayed the state of the nation, as a vineyard, whose "husbandman" expected a good harvest.  But when they slew his son, God determined that "the Kingdom of God shall be taken from you and given to a nation bringing forth the fruits thereof. ….. and the chief priests and Pharisees perceived that he spake of them." (Verse 43,45)
The Lord's own disciples did not understand the prophecies in the Scriptures that spoke of a suffering Messiah (Luke 24:25-27).   He spent the last night with them, talking to them at length (John chapters 13 – 16) and instituted a feast as a memorial to him, but they missed his fateful words – "I will not drink of the fruit of the vine until the kingdom of God shall come" (Luke 22:18)
The leaders purposely involved the Roman governor in Jesus' death so that he would suffer by crucifixion (John 18:31, 32).  Under the Law, a man was cursed if he died in such a fashion (Galatians 3:13) and, in Jesus so dying, they thought they were bringing the curse of God on him.  Pilate, the Roman Governor, was pressed to pass the death sentence because Christ claimed to be a king (John 19:12,14,15).  This was treason against Caesar.
The Ultimate Sin Offering
Why did God require His son to die on the cross?  First it constituted a public exhibition of what is due to mankind because of the sinful nature inherited from Adam and Eve.   Jesus, though inheriting the nature of his forbears (Hebrews 2:14-18), always did the will of the Father (John 5:30; 8:29).  The battle of the two seeds, the two ways, took place within Christ's thinking.  He showed how to overcome temptation by his obedience to God.
In life and death, he lived by denial of self-will (Luke 22:42) "learning obedience by the things which he suffered" (Hebrews 5:8)  He refused to indulge in any sinful or mean word or action, even to defend himself at his trial (1 Peter 2:21-23).
In Christ's death, "he condemned sin in the flesh" (Romans 8:3), so that the struggle of the spirit against the flesh (Romans 7:23; 8:5-7) was finally victorious.  His victory was the death blow to the head of the serpent by the woman's seed (Genesis 3:15).  In that final act of dedication, the impulses in his flesh were forever silenced – sin was conquered – that he might gain immortality.
His Resurrection
"And if Christ be not raised, your faith is in vain;  ye are yet in your sins," wrote Paul (1 Corinthians 15:16).  This shows that the Bible teaching about salvation and hope revolves around the resurrection of Christ.  When we identify and associate with Christ, we can share his righteousness.  If he is our operating principle, God will give us immortality, not for our accomplishment, but based upon our attitude of mind.
In Genesis 3:15, the bruise to the heel, as opposed to the fatal head wound to the serpent, implies a temporary wounding – because death could not forever claim a perfect, righteous man. (Acts 2;24).  Because Jesus was "without blemish and spot" his Father "raised him from the dead" (1 Peter 1:19-21).
The Eye-Witness Testimony
The last thing the disciples expected to see was the risen Lord.  They were unbelieving and uncomprehending of the resurrection; in fact they thought all hope with Christ was at an end. (Luke 24:21) They needed compelling proof that he was really alive again. The risen Jesus was seen of many, including his own family, and appeared to a gathering of 500 (I Corinthians 15:6)
Only the resurrection of Christ can explain the remarkable change of direction and character for the disciples.  They are transformed from cowered and frightened men to bold and courageous leaders, undaunted by persecution and challenging all who withstood their fearless witness.  Peter and John had seen with their own eyes the evidence of the empty tomb, the grave clothes lying "wrapped", but the body gone.  (John 20:5,7).  The  remarkable and sudden change of character testifies to men who were absolutely convinced of the resurrection of their Lord.  Even their arrest and appearance before the Jewish Council failed to stop their preaching, and the Jewish leaders could not produce the one thing that would have silenced this "new religion" – the body of Jesus Christ.
Death and Resurrection – symbolism
Death                     Death to the flesh, human nature – self-denial
Resurrection          Raised to a new life, living unto God
 
Death

Resurrection

Romans 6:10
"In that he died, he died unto sin once."
"but in that he liveth, he liveth unto God"
Romans 6:45
"We are buried with him by baptism into death.."
"as Christ was raised up from the dead by the glory of the Father even so we should also

walk in newness of life"

Romans 6:8
"If we be dead with Christ…"
"..we believe that we shall also live with him"
Romans 6:23
"The wages of sin is death…"
"..but the gift of God is eternal life".
Colossians 2:12
"Buried with him in baptism.."
"..wherein also ye are risen with him."
Colossians 2:13
"And you being dead in your sins.."
"… hath he quickened together with him.."
Ascension
For forty days Jesus was with his disciples, instructing them more fully in the "things pertaining to the Kingdom of God". (Acts 1:3)
After commissioning them to continue his work, he ascended to heaven from whence we are promised he will return. (Acts 1:11; Zechariah 14:4)
Hope for Mankind
The resurrection of Christ is an assurance of personal salvation and immortality for all who are "in him".  "But now is Christ risen from the dead and become the firstfruits of them that slept" (I Corinthians 15:20)
Peter tells us there will be three groups of people at the judgment: 1 Peter 4:17, 18
The righteous – walked in God's ways
The ungodly – professed to believe God, but did not obey
The sinner – knew about God, but refused the divine command
Those who "know not" – they are deceased, they will not rise (Isaiah 26:14).  This 4th group will not be at the resurrection.  They "knew not" God's law, and therefore are not responsible to it.
As descendants of Adam we are only worthy of death, but living "in Christ" we have hope of life.  Those who belong to him will be raised at his coming. (1 Corinthians 15:22,23).  The reign of Jesus Christ will conquer sin and all that opposes the will of God, so that finally, "God may be all in all" (v28).
What the Crucifixion of Christ Teaches:
a) SELF DENIAL
"Not my will, but thine be done" (Luke 22:42)
"Our old man is crucified with him that the body of sin might be destroyed" (Romans 6:6)
"Christ suffered… leaving us an example
–      Did no sin
–      spoke no guile
–      reviled not
–      threatened not
–      committed himself to God rather than defend himself (1 Peter 2:21-23)
"I seek not my own will, but the will of the Father" John 5:30
"Though a son, he learned obedience by the things which he suffered"    Hebrews 5:8
b) the WORTHLESSLESS OF FLESH
"All flesh is grass and the glory of man as the flower of grass….but the word of the Lord endureth" (I Peter 1:24,25)
"I know in me (that is, in my flesh) dwells no good thing"            (Romans 7:18)
c) GOD ALONE IS RIGHTEOUS
"Now the righteousness of God is manifested. For all have sinned and come short of the glory of God." (Romans 3:19-23)                     
The Resurrection of Christ also Teaches: 
d) THE NEW LIFE
Our spiritual life is patterned on Christ.  After "dying to self" in baptism, we must "walk in newness of life" (Romans 6:4-6)
"therefore if any man be in Christ, he is a new creature: old things are passed away, all things are become new." (2 Corinthians 5:17)
e) FOCUS ON HEAVENLY WISDOM
Our focus must be "on those things which are above" (Colossians 3:1)
We should seek the "wisdom from above" as opposed to earthly, sensual wisdom (James 3:15,17)
Timetable of the Death and Resurrection of Christ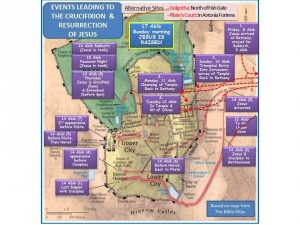 14 Abib                     Day of Preparation 
after 6pm – Jesus & disciples – Passover Feast
Late night – Jesus & disciples -Gethsemane
Arrest
Trials –     Jewish & Gentile trials
9 am                   Crucifixion
12 noon              Darkness for three hours
3 pm                   Death 
Evening              Burial; for 'three days and three nights' (Matthew 12:40)
Note:  Remember, 6pm is the beginning of a new Jewish day.                                     
After the Resurrection
40 days                            Seen of disciples    Acts 1:2,3 
Commissioning of disciples
Ascension                         Acts 1:11
49 days                            Pentecost – conferring of
after Passover                  Holy Spirit Acts 2
 Next Lesson:  The Work of the Apostles – their message of the risen Christ still moves people to believe and prepare for his return.